How does the Queued tab work?
The Queued tab in the Downloads screen displays the podcast episodes that are currently queued for download. The download progress/percentage for each of the episodes is also displayed on this tab. Once downloading is finished, the episode gets moved to the Download tab, and you can play it from there even if you are offline.


On the other hand, if you want to cancel the downloading of an episode, simply tap the 3-dot menu on the right side and select Cancel Download. The episode then gets removed from the Queued tab.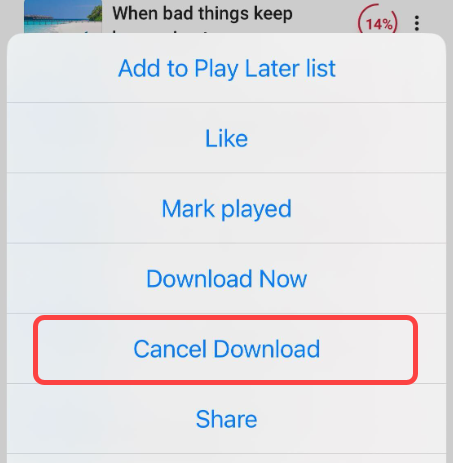 To queue an episode for download, you can perform either of the following methods:
Subscriptions auto-download

When you follow a podcast series, the app auto-downloads its episodes based on your configuration in Settings > Downloads > Subscriptions.





Play Later

To add an episode to Play Later (from the episode list), simply swipe it to the right. Episodes added to Play Later are auto-downloaded based on your configuration in Settings > Downloads > Play Later.



Download Now

On the episode list, tap the 3-dot menu found beside the round play button and select Download Now. Please note that this option will download the episode on mobile data if you are not connected to wi-fi.